Textalky Features
Transform Your Text into Realistic Voice with Textalky
Speak Globally with 140 Languages & Accents
Textalky empowers your voice with a rich selection of 140 languages and accents, connecting you with audiences worldwide. Speak naturally, speak globally.
900 Lifelike Voices - Male & Female Choices
Choose from 900 lifelike male and female voices with Textalky. Customize your audio projects with the perfect voice that resonates with your audience.
Enhance Audio with SSML Tags - Add Effects Easily
Elevate your voice productions using Textalky's SSML tags. Add impactful effects with ease and give life to your texts.
Sound Studio Panel - Edit, Merge & Cut Your Audios
Textalky's Sound Studio Panel offers you professional audio editing capabilities. Merge, cut, and edit to create the perfect audio experience.
Background Music Library - Add Your Tracks
Enhance your voiceovers with Textalky's extensive library of free copyright sounds and music, or add your personal touch with your own tracks.
Versatile Audio Export - MP3, Ogg, Wav, Webm
Textalky provides flexibility in exporting your audios. Choose from popular formats like MP3, Ogg, Wav, or Webm to suit your needs.
Convert Text to Voice in Easy Steps: How Textalky Works for You!
Discover the seamless process of converting text into natural human-like voices with Textalky! Whether you need a voice for e-learning, videos, marketing, or any creative project, our intuitive six-step process guides you through the journey. Choose from 140 languages and accents, personalize with unique voice effects, and preview before you finalize. Experience the next-level text-to-speech solution that's user-friendly, customizable, and designed to make your content stand out. Get started with Textalky today and explore how it works below.
Step 01:
Select Language and Accent
Choose from an extensive selection of 140 languages and accents from the dropdown menu, ensuring that your text is conveyed in the specific dialect that resonates with your audience.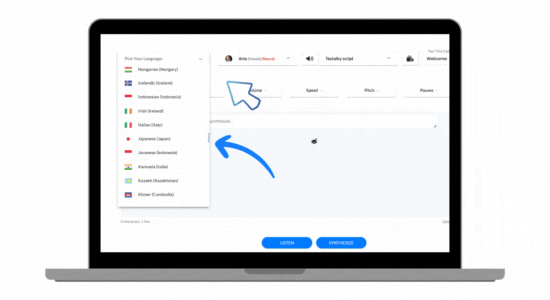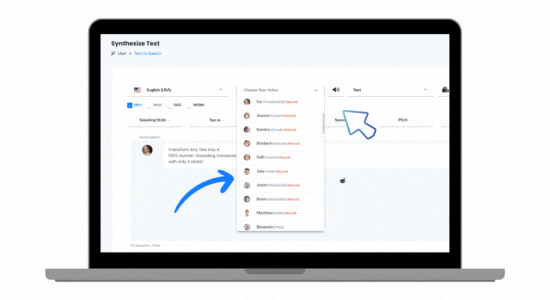 Step 02:
Pick a Voice Type
Select from hundreds of unique voices in the dropdown menu. Whether you need a male, female, or child's voice, Textalky offers an array of options to match the tone of your content.
Paste your text into the designated text area or conveniently upload a text file directly. Textalky's user-friendly interface allows for quick text entry, saving you valuable time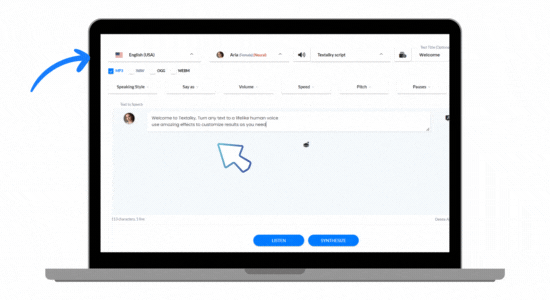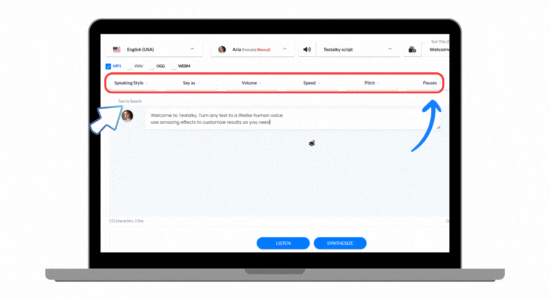 Step 04:
Customize Voice Effects
Tailor the voice to your liking by choosing from various voice effects that suit your needs, or use SSML (Speech Synthesis Markup Language) tags directly within your text. With Textalky, you have the creative freedom to make the voice truly yours.
Step 05:
Preview and Edit
Click on "Listen" to preview your produced voice. You can modify your text as needed, and even select only the modified text to listen to that part without losing credits by re-listening to the whole text. Textalky's flexible editing feature ensures you get it just right.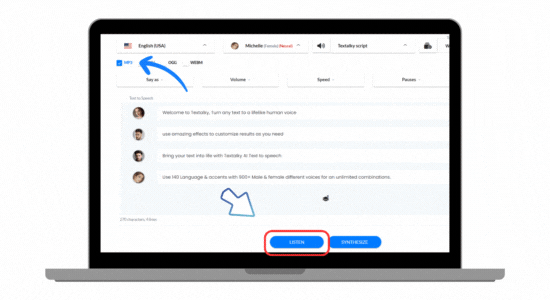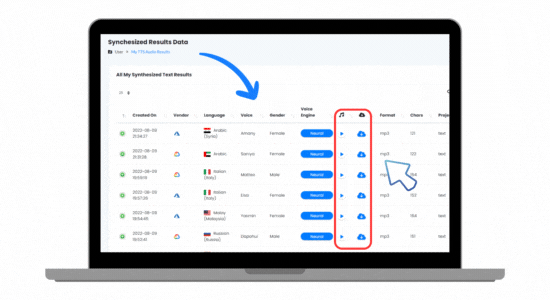 Step 06:
Synthesize, Download, and Save
Once you are satisfied with the voice, click on "Synthesize" to produce the audio. You can then download it and save it to your account. Textalky makes it simple to manage and store all your audio files in one place.
All set to level up your audio game?